About - Emapic
Emapic is a technological initiative which arises from cartoLAB, the Cartography laboratory of the Investigation Group in Advanced Visualisation and Cartography in Architecture, Engineering and Urban planning of the Department of Mathematical Methods, located in the Escuela Técnica Superior de Ingeniería de Caminos, Canales y Puertos of the UDC.
In this laboratory we employ the Technologies of Geographic Information in order to obtain a more efficient plan and administration of the infrastructures, services, resources and territorial spaces. We are convinced that all the information handled by the human being can be represented on a map, increasing with it the knowledge on any question, and for that reason we created Emapic.
Emapic is a free software project, whose source code can be browsed and downloaded through our public github repository.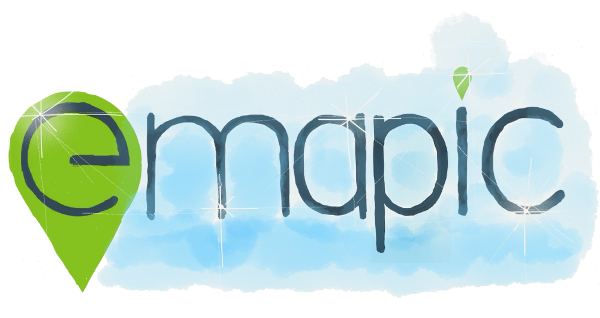 Partnerships
During the development of Emapic we have had the opportunity of collaborating with different organisations in order to develop geolocalised surveys adapted to its needs:
COLEGIO DE INGENIEROS DE CAMINOS, CANALES Y PUERTOS

Geolocalised surveys to collegiates of the Demarcación de Galicia, carried out between December 2014 and March 2015 to realise the grade of knowledge and satisfaction with regard to the services provided by this Professional School, with more than 150 participants.

ENXEÑERIA SEN FRONTEIRAS

Collaboration between the University of Coruña and the ONGD ESF-Galicia within the Proxecto de difusión da Tecnoloxía para o Desenvolvemento Humano na comunidade educativa e profesional de base tecnolóxica e na sociedade galega en xeral 2015-2016, where they work on the development of a geolocalised survey to analyse the knowledge and interest from the Galician technological sector for the concepts of technology for the development and global citizenship.

DGT

Support received by the Dirección General de Tráfico within the a grants call for the development of investigation projects in the Tráfico area, mobility and road safety in relation to the financial year 2015 to develop the project presented from the UDC named "ESTUDIO DINÁMICO DE LA MOVILIDAD ESCOLAR MEDIANTE TECNOLOGÍAS WEB DE GEOLOCALIZACIÓN".

CODE.ORG

Questionnaire of registration for the event A HORA DO CÓDIGO UDC 2015 within the initiative code.org.